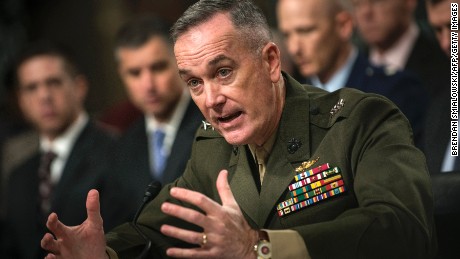 Washington (CNN)The military assesses that the shell fired on a joint US-Iraqi base Tuesday was indeed a chemical weapon, according to Chairman of the Joint Chiefs of Staff Gen. Joseph Dunford.
"We assess it to be a sulfur mustard blister agent," Dunford told the Senate Armed Services Committee Thursday. It is the first time the military has confirmed its assessment on the record since CNN reported the development Wednesday.
A US military official told CNN, however, that the first field test for chemical agent was positive and the second test was negative. The substance was sent to a coalition-operated Iraq-based lab, and tests there were inconclusive. The official said the sample will now be sent to another lab for additional testing.
Dunford described ISIS as only having a "rudimentary" capability to deliver the chemical, saying the weapon "wasn't particularly effective, but it is a concerning development."
The general went on to say that the US-led counter-ISIS coalition has conducted "over 30" airstrikes against suspected ISIS chemical weapons facilities during the past year.
Committee Chairman John McCain said that the situation was "concerning, particularly on those people who don't have protective equipment." The Arizona Republican was referring to civilians and other local forces that have been subjected to ISIS chemical attacks in the past.
The more than three-hour-long testimony also featured a few heated exchanges between members of the committee and witnesses Dunford and Defense Secretary Ash Carter over the defense budget and whether a no-fly zone could be implemented in Syria.
"It was either the Russians or the regime," Dunford said, adding, "There's no doubt in my mind that the Russians are responsible. I just don't know whose aircraft actually dropped the bombs."
Carter concurred, saying, "The Russians are responsible for this strike whether they conducted it or not" due to their association with the Syrian regime.
Their comments come as the prospects of the US-Russia negotiated ceasefire in Syria, which would include Russian-American military cooperation in fighting the terror groups ISIS and al Nusra, appears poised to collapse.
McCain slammed the accord, calling it "deeply problematic even if implemented."
He also took a swipe at top US diplomat John Kerry, saying, "President (Barack) Obama sent his intrepid but delusional secretary of state to tilt yet again at the windmill of cooperating with Vladimir Putin."
Read more: www.cnn.com