Six months ago the South African comic took on the trickiest task in comedy; replacing Jon Stewart as host of the Daily Show. Whats he learned so far? Always keep your cool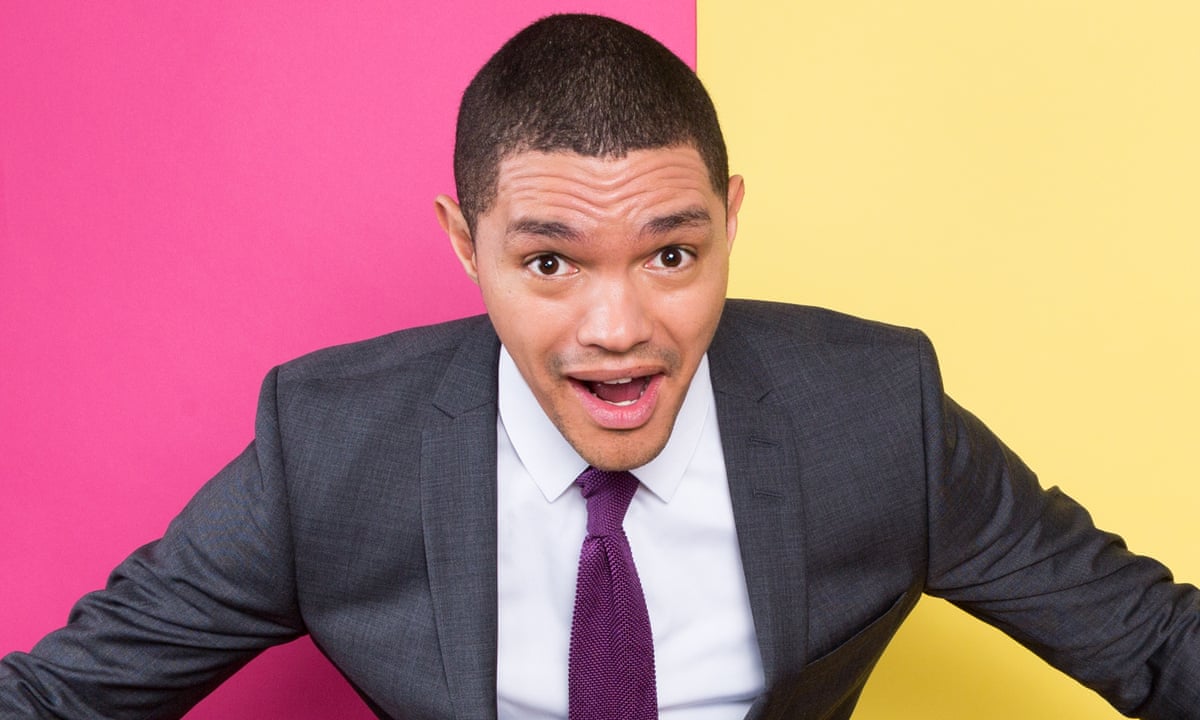 Trevor Noah is perched on top of a bank of chairs in the Daily Show conference room. Its a Friday, which means theres no live show, and Noah has time to clown around, undergoing half-a-dozen tie changes while being photographed by the Guide. This room is usually the hallowed space where the writers share their ideas and hone jokes for Americas best-known political satire, but right now Noah has his arms outspread and is tottering around as if hes about to fall over. Thats good, says the Guides photographer. Keep doing that airplane thing, he adds as Noah regains his balance. Airplane? asks Noah with faux-incredulity. Thats what you thought that was? Interesting. This is like a Rorschach test: you see whatever you want.
Since the 32-year-old South African took over from Jon Stewart, who retired last August after 16 years in charge, his tenure at the Daily Show has been open to interpretation too. Some see a confident, charismatic comedy talent and a welcome point of difference in a bland and white late-night landscape, while others see him as an unwelcome reformist who has defaced the Daily Show that Stewart built.
Speaking to Noah in his office, though, youd never get the sense this was someone who was described by GQ as the biggest gamble on late night since NBC hired Conan to replace Letterman. He talks in punchy, easy-to-grasp metaphors: US politics is like transfer deadline day in the UK Ben Carsons announced its official, hes moving to Trump; running The Daily Show is like working out: You can get good at it but its never easy, so right now were just getting our fitness up; and Twitter is like a restaurant where everyone hates the food but they keep ordering more of it. At the same time as doling out the aphorisms Noah keeps one eye firmly on three TVs tuned to MSNBC, Fox News and CNN, noting news items or moments for the producers to look at later in closer detail. He doesnt look or sound like someone who is rattled, more like someone who has a plan and is sticking to it.
Noah points out that the Daily Show is still in its infancy. Im a baby in this thing. Im flattered by the fact people judge me as if Im not, he says, before alluding to his other late-night counterparts. Im by far the youngest. Im 32 years old. I jumped into the hottest seat possible and luckily weve not crashed the ship.
He hasnt crashed more like hes set it on a new course. Ratings have dipped since Stewarts exit, but more than half of the shows new viewers are in the all-important 18-34 millennial bracket, which advertisers covet so much. The age of the shows average viewer has dropped from Stewarts era when it was nearing 50, and Noah has developed a more diverse audience, too. Under the cool exterior, nicely fitted suits and solid stats, has anything shocked him since he took over?
The biggest surprise was how much people expect the show to be a journalistic source, which is ridiculous, he says. People have found solace in a comedy show. You know what comes before my show? Cartoons that talk about fucking each other in the ass. You know what comes after my show? More fucking in the ass. Were a comedy network.
Noah joined the show in 2014 as a correspondent, following in the footsteps of John Oliver, Stephen Colbert, Larry Wilmore and Samantha Bee all of whom have late-night shows now. He knew the importance of the show to US comedy but was taken aback when he was handed the job of host by what people saw his role as being. Comedian? Hardly. Try a mix of analyst, clever best friend and voice of an entire electoral class.
Read more: www.theguardian.com