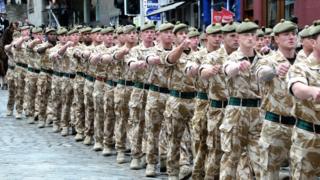 A Labour government would culminate the outsourcing of large excuse contracts to the private sector, the party's shadow explanation secretary will promise.
Nia Griffith would also have "no hesitation" in drawing contracts in house if "thats really not" delivering.
Her speech arises a week after Capita was apportioned a PS500m contract to run UK armed fire and recovery services.
This was despite the MoD being told the firm was judged a "1 0 out of 10 risk" by an assessment, according to the FT.
Defence expend rise advocated over Russian menace Interserve shares slide amid Capita woes Army recruitment plan 'unacceptable'