As the Will Smith movie Concussion highlights brain injuries in Americas most popular sport a delayed health epidemic is putting the games future in doubt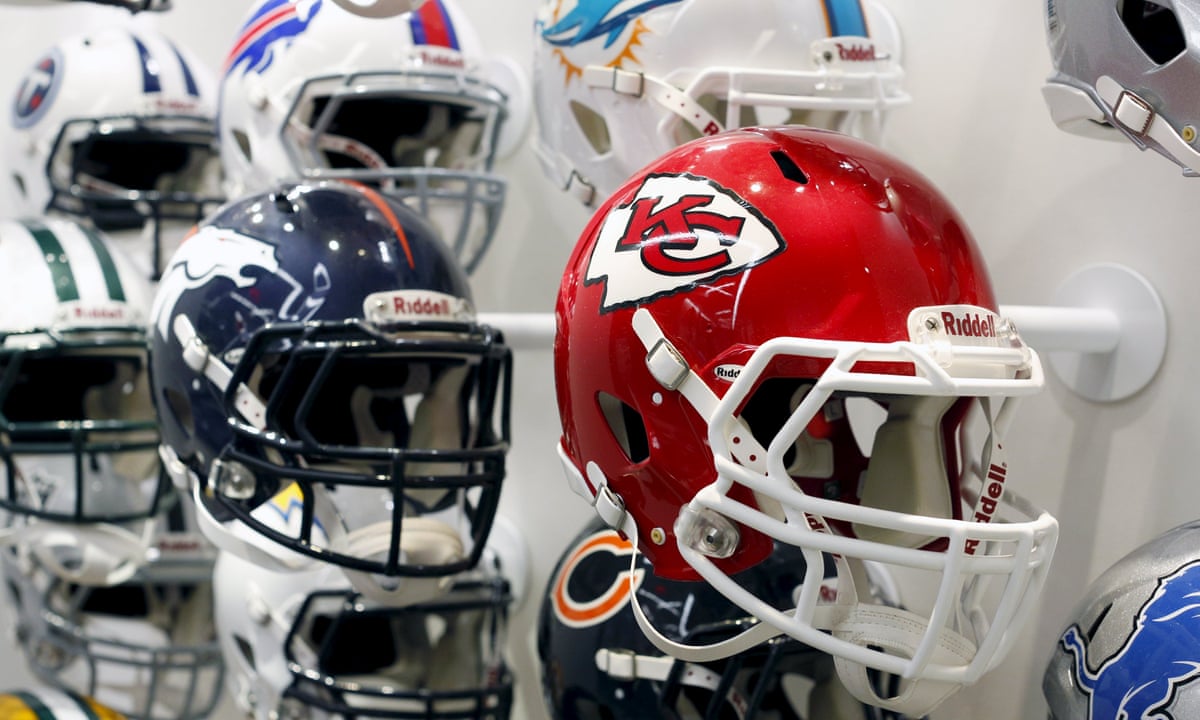 George Visger sat in his truck, a prized possession since everything else was gone, but struggled to remember the model and year. Its, uh, a Chevy. Yeah. A Trailblazer, I think. 2003. No, wait, 2009. Probably around then.
The former professional footballer paused, annoyed with himself for fluffing a banal question about the vehicle. He could not help it: fog drifts through his memory, shrouding information registered moments or years earlier.
In his prime as a defensive lineman for the San Francisco 49ers Visger smashed through opponents with raw, physical, power, a 6ft 5in block of muscle and grit. Now aged 56, homeless and jobless in Sacramento, he battles mental obstacles with Post-it notes and waterproof notebooks, hundreds of waterproof notebooks, scribbled with details he might otherwise forget whom he speaks to, the reason he goes somewhere, where he parks.
The system does not always work. Once, coming out of Home Depot, he found a strange car where his truck should have been. He roved the parking lot for 65 minutes, repeatedly returning to the spot, baffled, until he remembered his truck was being repaired and that he had borrowed a buddys car. He had been driving it for a week.
I remember whats in here, though, Visger said this week. There was a rattling sound as he rummaged in the glove compartment. My little brain drain emergency kit.
The plastic box contains an antiseptic pad, a razor, a syringe and a note from his doctor about how to siphon excess spinal fluid from a dime-sized hole in the side of Visgers skull if he falls into a coma. He brings the kit everywhere hopeful that in an emergency someone, anyone, will follow the instructions. This is how I frigging have to live.
As America sits down to one of the years biggest football weekends the film Concussion, which launches in US cinemas on Christmas Day, is raising awareness about the games human cost. Based on a true story, Will Smith plays Bennet Omalu, a Nigerian forensic pathologist who discovered a disease, chronic traumatic encephalopathy (CTE), devastating former players.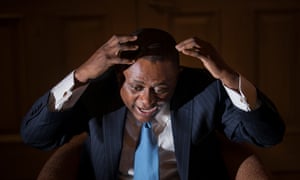 His autopsy of the former Pittsburgh Steeler Iron Mike Webster in 2002 helped to explain how the Hall of Fame athlete, considered one of the best centres in National Football League (NFL) history, fell into dementia, depression and destitution. Before his death at the age of 50 Webster put Super Glue on his rotting teeth and used a Taser gun to ease back pain.
Omalu linked Websters suffering to repeated blows to the head during games, a finding with profound and disturbing implications for all football players, amateur and professional. The NFL denied it and tried to discredit Omalu but mounting scientific evidence, congressional hearings and a class action lawsuit by former players forced the league, which dominates American sport and television ratings, to recognise the crisis.
The settlement, approved earlier this year by a federal judge, could cost the NFL $1bn over 65 years. It expects 6,000 of nearly 20,000 retired players to eventually suffer from Alzheimers disease or moderate dementia.
The league has taken steps to protect players, it said in a statement. These include nearly 40 rule changes in the last decade, strict concussion protocols, and better training and sideline medical care. We are seeing measurable results, including a 34% decrease in concussions in NFL games since the 2012 season.
Critics say the changes dont go far enough. Brain and non-brain injuries are unacknowledged cornerstones and artifacts of football participation, said Don Brady, a psychologist who has written papers on the subject. Its not just suffering one or more concussions that causes brain damage, its also the accumulation of sub-concussive impacts.
Beloved national obsession or brain-destroying brutality, the debate over football blazes in courtrooms and television studios and soon movie theatres. Many former players, however, feel they inhabit a private shadowland, a dark labyrinth of confusion, depression, financial ruin and broken relationships.
Its been devastating, you know. Once you get injured the game turns on you, said the slow, measured voice of Dave Pear, 62, a former defensive lineman for the Tampa Bay Buccaneers and a Super Bowl champion with the Oakland Raiders. They convinced me to play with a broken neck for several years.
Since retiring in 1980 he has had 15 surgeries on his neck, back, hips, knees. Pear suffers vertigo and walks with a cane. The pain never stops. He fought repeated court battles to extract worker compensation from the Raiders. Then battled the NFL to compensate his brain injuries.
Pear runs an influential players blog but speaking from his home near Seattle his concentration occasionally wavered. Oh, Im sorry. Where was I? he asked several times, mid-sentence. I cant remember things. I get headaches. I fall asleep during the day. He paused. I cant remember things.
Nudged back on to the NFL settlement, he focused. Theyre trying to act like theyre doing something. Theyre helping the younger players but the older players theyre waiting for us to die.
The league vigorously disputes that and points to funding for independent scientific and medical research and the development of better protective equipment.
But among older players its a common sentiment: once gods on the field, courted by teams and worshipped by fans, they now feel like human refuse, dumped and forgotten.
Ive lost my home, my consulting business, Im getting divorced after 20 years, I cant sleep, I need my shoulder replaced but that would mean not driving for six months so I cant do that, Ive had nine brain surgeries, I cant remember anything so everyone around me is pissed off. Its a frigging nightmare, said Visger, the former 49er. Im smart, a man of integrity, but I just cant remember things.
Visger had a typical rise up the football ranks: starting at the age of 11 in Pop Warner, the youth league, defensive tackle for his Stockton high school team, a football scholarship to the University of Colorado, graduating to the 49ers.
In an era when the head was viewed as a battering ram and only pussies complained about pain, his experience with head injuries was also typical: badly concussed at the age of 13, he went on to suffer repeated dings, including a major concussion in the first quarter of a Dallas game in 1980, yet continued playing with the aid of smelling salts. By 1981 headaches, vomiting and bright, blinding lights were a daily reality.
Eventually a team doctor diagnosed brain haemorrhaging and hydrocephalus, also known as water on the brain. A surgeon inserted a shunt into his brain. Visger retired from the game aged 23.
He completed a biology degree, did wildlife surveys for an environmental consultancy, married and fathered two children. But gradually his memory became a sieve. Invoicing, returning calls, grocery shopping, tasks big and small, they all leaked. Filling notebooks helped him to function but he became cranky and disorientated, lashed out at those around him. His career and marriage crumbled.
Doctors diagnosed cognitive impairment, chronic traumatic brain injury, frontal and temporal lobe disorders and generalized seizure disorder. Visger adds CTE to the list, but confirmation must await a postmortem.
He qualified for California Workers Compensation, yielding $1,750 social security disability a month, but missed out on the NFL settlement because his professional career lasted less than four years. Nine brain surgeries and do I qualify for NFL compensation? Hell no.
Still, Visger said he counted his blessings. Honest to God, Im doing great compared to other guys.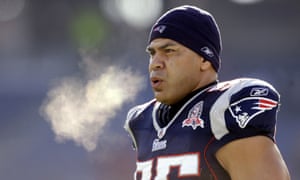 That is true. There has been a spate of suicides, including Junior Seau, who shot himself in the chest in 2012 to preserve his brain for study. Of 92 NFL players whose brains were tested posthumously at Boston University, 88 showed evidence of CTE. This week brought confirmation of another case: Frank Gifford, a Hall of Fame running back who died in August, aged 84.
Physical pain from injuries is bad enough but the loneliness and alienation of a mental disorder can be worse, said Scott Gilchrist, 54, the son of Cookie Gilchrist, a legendary 1950s star fullback. As Cookies memory unravelled he recorded thousands of monologues and conversations in an attempt to make sense of things.
My brother and I used to think, oh, the old mans crazy, but now I understand, said Scott. He understands, he said, because two years ago he fell from scaffolding, causing brain bleeding and other symptoms. Short-term memory, being fixated on certain events, getting mad at little things.
Football authorities say rule changes, such as reducing head contact in drills and banning the most egregious, intentional clashes during games, have made the game safer. Like never before theres acceptance that we have to make these changes. I think there has been a lot of positive change, said Julian Bailes, head of neurosurgery at the NorthShore Neurological Institute and chair of the Pop Warner medical advisory board.
Last year just 1% of youth league players were concussed, a fall from about 5% in previous years, he said. The NFL has also made important strides, he said. I dont know that theres a whole lot more than can be done.
Bailes, who allowed his two teenage sons to play middle school football, is no NFL apologist: he supported Omalu during his lonely battle to expose CTE. (Alec Baldwin plays him in Concussion.)
Michael MacCambridge, author of Americas Game: The Epic Story of How Pro Football Captured a Nation, also saw progress. Im not saying football is safe but compared to a decade ago I see a more concerted effort by the league to address players safety. Would MacCambridge let his teenage son play? Id have to think about it. I believe Id say yes.
Critics are unconvinced. They say concussions often go unreported, that cumulative sub-concussive knocks still cause long-term damage, and that safety rules are often ignored. Earlier this season, officials let the St Louis Rams quarterback Case Keenum stay on the field, concussed and staggering, after being slammed into the turf, prompting an inquiry.
Better equipment and new rules, even if enforced, do not compensate for the impact of bigger, stronger, faster players giants compared to predecessors, said Pear. Its like playing in the freeway with cars going 80mph. Its not a contact sport, its a collision sport. Visger agreed. The kinetic energy that these guys generate is just incredible.
Both veterans believe violence is inherent to the game and the leagues $10bn revenues.
Most people have jobs they hate and on the weekend just want to go out and be entertained, said Pear. People want to see nice catches and nice runs, sure. But listen to the crowd roar when theres a big hit.
Visger concurred, saying the damage he inflicted would have landed him in jail if done anywhere except the field. People love to see guys getting blown up. The game is designed to knock the shit out of your opponent.
Buzz Bissinger, the author of Friday Night Lights, advocated greater safety measures until an epiphany in 2011, when he declared football a celebration of violence. It is why we like it. Take it away, continue efforts to curtail the savagery, and the game will be nothing, regardless of age or skill.
In a Bloomberg survey last year half of respondents said they would not want their son to play football. Could it go the way of boxing: a moneyed but marginalised, discredited sport?
Participation in Pop Warner fell from 248,899 in 2010 to 225,287 in 2012 but since then numbers have stabilised, said Josh Pruce, a league spokesman. Anecdotal evidence, however, suggests trouble in the pipeline.
I hear more parents telling me they wont let their kids play until high school, said Dustin Fink, an Illinois athletic trainer who blogs about brain injuries but adores football. I think therell be a tipping point into people abandoning the sport.
Others predict an accelerated dwindling of white players, leaving African Americans, currently two-thirds of the NFL roster, increasingly prevalent. Young black men, many from poor backgrounds, risking their lives and health to enrich the white plutocrats who comprise team owners and gambling moguls: a troubling image for the NFL.
Its very sad, but thats the truth, said Robert Lee, who runs the Independent Football Veterans site.
Jeanne-Marie Laskas, a journalist whose GQ article and book, Concussion, inspired the film, reckoned the cultural and commercial juggernaut known as American football will roll on regardless. What will penetrate the culture until people say, wait a second? We as fans are complicit because we watch and love the hits. We just love it too much.
Laskas recently attended the funeral of Fred McNeill, a former Minnesota Viking who died at the age of 63. After quitting football he built a thriving law practice, a brilliant, accomplished man. Then, gradually, he lost his memory and his mind, shattering his family, said Laskas. She no longer watches games. Its not a moral position. Its because its disturbing to me.
Read more: www.theguardian.com